Future analysis of aluminum alloy die casting industry in China
2018-03-14 14:20
Die casting is the most widely applied technology, the fastest developing technology, the most advanced technology and the highest efficiency of precision parts manufacturing technology. It adapts to
Die casting is the most widely applied technology, the fastest developing technology, the most advanced technology and the highest efficiency of precision parts manufacturing technology. It adapts to the trend of product sophistication, precision, light weight, energy saving and environmental protection in modern manufacturing industry. As a kind of metal heat processing technology, cutting less close to solidification without cutting forming, die casting products have many advantages of material lightweight, strong wear resistance, high mechanical strength, heat transfer and good conductivity, can withstand high temperature, beautiful appearance, energy saving and high efficiency, which is widely used in automobiles, home appliances, aviation, mechanical precision electronic devices.
The die casting parts are mainly divided into aluminum alloy castings, zinc alloy die-casting parts and magnesium alloy castings. From the amount of die casting, aluminum alloy die casting is the main part.
In recent years, with the development of global economy, the demand for precision die castings has increased steadily in many fields, such as automobile, 3C products, communication infrastructure, household appliances, medical equipment and so on. For developed countries, due to the leading edge in the equipment and technology level, the die casting industry usually focuses on the high quality and high added value die casting of automobile, communication and aviation.
China automotive die casting production accounted for all of China's die casting production ratio has exceeded 70%, which has increased dramatically in recent years the automotive lightweight demand has led to the rapid development of automobile industry Aluminum Alloy precision die casting, Aluminum Alloy die castings in automobile industry plays a very important role in recent years. In China Automotive die casting die casting application, Aluminum Alloy accounted for about 80%.
In recent years, China's annual die casting industry to maintain steady growth, more than 10% in 2012, China's die casting production exceeded 2 million tons, in 2014, China's die casting production reached 2 million 600 thousand tons, an increase of 10.64%, to 2016, China's die casting production will exceed 3 million tons, and will be implemented in 2018 3 million 950 thousand die casting production ton.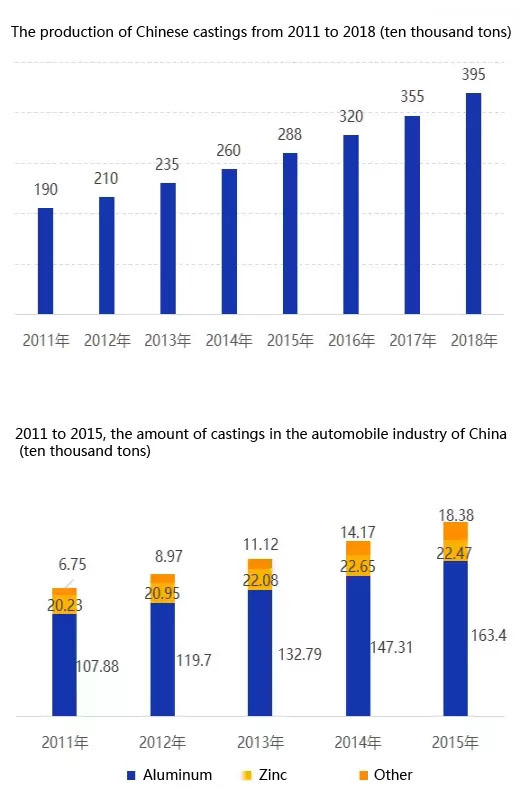 At present, the production and consumption of aluminum alloy castings in the world are mainly concentrated in the United States, Japan, China, Italy, Germany, Mexico and other countries. With the continuous growth of the economy, the global demand for automobiles, electronic communications and other products, the die casting industry has developed rapidly. According to the situation of the global metal die castings, black metal die castings account for more than 80%, while the proportion of non-ferrous metal die castings is less than 20%, of which the proportion of aluminum alloy die castings is 2/3. The production and consumption of non ferrous metal castings are mainly concentrated in the countries and regions such as Europe, America and Japan, and the annual growth rate is about 9%.
Aluminum alloy and other light alloy die castings are widely used in modern industry, especially in the fields of automobiles and motorcycles, communication infrastructure equipment, and electric tools. Low-end die castings are in complete competition, and high-end products such as precision die castings are much less competitive than low-end products.
The application field of aluminum alloy die casting is very wide, and many market segments have been formed in the die casting industry of aluminum alloy. At present, most small and medium die casting factories mainly produce ordinary die casting products such as hardware, lamps and toys, etc., with small scale, low equipment level, fierce price competition and low efficiency. A large number of die casting enterprises have more advanced equipment and technology, which can meet the requirements of high-precision die casting products for automobiles, high-end electric appliances, electric tools, communications and other industries. These manufacturers are able to establish a stable long-term cooperative relationship with the downstream customers, and are in a more favorable position in the market competition, and the efficiency of the enterprises is better. In the field of Aluminum Alloy light alloy precision die casting, good prospects for the industry is attracting new competitors, including some large foreign die-casting enterprise, these enterprises have advanced technology and equipment, capable of producing complex precision castings, a high position in the industry. With the development of the industry, the market competition will become increasingly fierce in the future. The local die casting manufacturers must constantly improve their technological level, introduce advanced equipment and expand the scale of production, so as to maintain the leading position in the industry.
At present in the China automobile industry with "automobile engine cylinder, piston, pump, gearbox, brake for the communications industry to" communication system (GSM, CDMA, 3G, PHS etc.) mainly transmitting and receiving station, elevator industry with escalators and moving out "as the representative, and the application of electronic information the computer equipment industry as the representative of the hot die casting products.
02 Innovation and Development of Aluminum Alloy Die Casting Technology
1) integration
Die casting enterprise specializing in the production of the die casting products by downstream manufacturers integrated assembly, the mode of production and process are simple, or is this traditional model in the whole industry chain is relatively simple, the final product assembly is simple, the number of parts under the condition of less. With the development of modern production process has become increasingly complex, the final product assembly for enterprise supply chain efficiency requirements gradually increase, the market for integrated parts of the increasingly high demand, some enterprises also gradually developed from a single die casting die casting manufacturer into die casting / machining / assembly integrated die-casting parts manufacturer.
2) new technology
With the development of modern industry, the industry of quality of die casting of the increasingly high demand, difficult to produce large, thin, thick walled casting market demand expansion, to promote a new production technology constantly, such as vacuum casting, high vacuum die casting, die casting, die casting of ultra high speed ultra low speed etc..
Another important symbol of modern industry is the level of automation. International advanced die casting manufacturers can achieve full automatic production, high production efficiency and stable quality. Most of the domestic die-casting manufacturers have low level of automation, and a large number of processes need manual treatment, resulting in poor quality stability. As market demand for product quality is higher and higher, some large domestic manufacturers are gradually upgrading their automation level, reducing manual operation process, and narrowing the gap with international advanced level.
3) new materials
Material is one of the most important foundations of modern industry. The application of new materials often brings about the renewal of products, technological innovation and even the technological revolution. In the die casting industry, the application of new materials emerge in an endless stream, mainly includes two aspects, one is the emergence of new alloy materials, such as magnesium alloy die-casting; two is the original alloy material is improved, so as to get the performance of the original alloy do not have, so as to be able to develop new products, applied to new areas.
4) rapid reaction
In the automobile and other fields, with the development of the economy, the market competition is becoming more and more intense, and the speed of product renewal is accelerated gradually. In order to meet the market demand, downstream enterprises need to constantly introduce new products, which makes the products of the upstream die casting manufacturers more diverse and fast changing, and put forward higher requirements for the rapid response ability of the die casting manufacturers. In order to improve the ability of quick response, die casting manufacturers must improve their R & D capabilities, enrich their technological accumulation, and standardize and systematize their R & D work.
The advanced stage of rapid response is synchronous research and development. Some international advanced die casting manufacturers can achieve synchronous development with downstream customers, that is, to participate in the initial research and development process of customer products, and share data with customers, so that they can accurately grasp the market demand. With the gradual improvement of the R & D level of domestic enterprises, some advanced domestic enterprises are also trying to improve the degree of their participation in the process of synchronous research and development.
904-905, China-base Building, No.666, Tiantong South Road, Ningbo 315100, China
NO. 45, Baofeng Road, Eastern Suburb Development Zone, Fenghua 315500, China
ALUMINUM FORGING DIVISION ADD
Shaojiadu Street, Linhai City,Zhejiang Province 317000, China
INNOVAW LPDC/GPDC division
No. 288, Fengchuan Avenue, Tonglu, Hangzhou, Zhejiang, China