Foreign Die Casting Technology - The Potential of Die Casting in Lightweight Structure of Electric Vehicle Parts
2018-06-14 01:46
Due to the rapid development of technology, goal setting and development trend, the complexity of automobile development is increasing. The need to use energy and resources responsibly, on the one h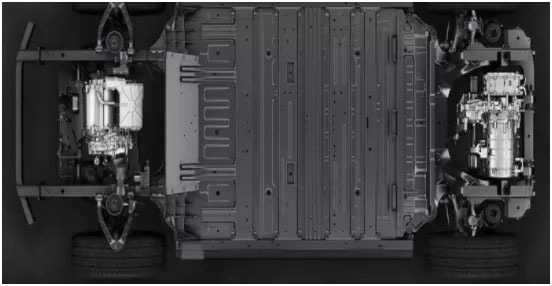 Due to the rapid development of technology, goal setting and development trend, the complexity of automobile development is increasing. The need to use energy and resources responsibly, on the one hand, has led to conflicting mandates for automakers and parts suppliers. The situation is expected to get worse.
In this context, nothing is more likely to be the driving force of the automotive industry than electric vehicles. In order to make personal transportation more environmentally friendly in the future, a number of new methods are being studied to replace the internal combustion engine of a century-old vehicle with an electric motor.
This will affect not only equipment manufacturers (OEM) themselves, but also the products, technologies and business models of many suppliers. It also raises the question of what challenges and opportunities this transformation will bring to the foundry industry.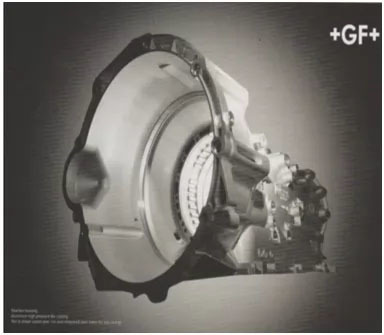 Gearbox housing with gear ring and integrated piping made of aluminum die casting process
After the first wave of electrification there was a distinct cooling off period. In the fast-paced age of apps and crowdfunding, turning a car into an electric drive is so simple, and the details so complex. It is too early to say which technical concepts will be universally accepted. There are other alternatives, such as fuel cells, which sometimes get media hype in the shadow of electronic mobility. Electric-gas technology is also an attractive solution, but it must prove itself in terms of technology and economics, and have the necessary infrastructure.
The only thing that has happened so far is consumer uncertainty. This is reflected in a recent study published by PwC Consulting, a consultancy. According to the study, only 1 percent of potential new car buyers would buy a pure electric vehicle. This is not surprising, as a variety of new and partially immature technical concepts are beyond the reach of the customer. Too many questions about cost, mileage, availability of charging infrastructure, and especially battery life have yet to be satisfactorily answered. In this context, the important factor of "consumer" is often ignored. But the factors that influence car buying are not only objective facts, but also human intuition.
Look at the media and it becomes clear that new solutions are needed more than ever. Reducing carbon dioxide emissions is one of the most pressing issues in the world today, and global warming and its climate impacts are increasing.
Are electric cars the key to solving these problems? There are two important aspects to consider. First of all, pure electric drive has better overall efficiency. But electricity is a vehicle, not an energy source. If electricity is generated primarily from fossil fuels, it does not have much of an advantage over gasoline and diesel engines in the carbon dioxide balance. From this perspective, the energy transition is now also important for transportation. In addition, an increasing number of carbon dioxide emissions are considered not only when vehicles are driven, but also when materials, semi-finished products, products and components are produced. The goal is to consider the overall life cycle of the vehicle from the source of the material to the end of use. In the future, this fact must be increasingly taken into account when selecting materials and processes within the framework of vehicle design.
Impact on the foundry industry
How many cars will be powered by electricity in the future is a useless debate that will last for years. The truth is, no matter what the future holds, product diversity is already changing. After all, mixing and downsizing are now having an impact on parts that are considered classic castings, making them pioneers of electric cars (figure 1). All parts of the engine and transmission system are affected. These components include, for example, cylinder heads, crankcases, and crankshafts. These parts initially become smaller and carry higher loads. But in the case of pure electric power, they were eventually eliminated altogether. This is a challenge not only for load considerations, but also for materials and production processes.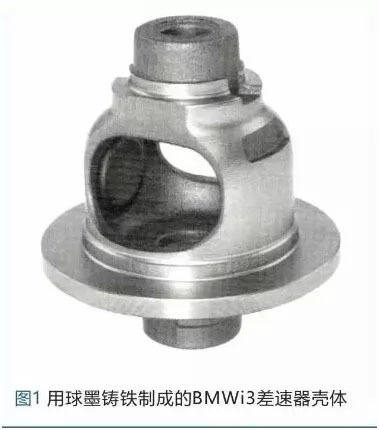 All other parts of the car are under pressure to be structurally lightweight. Both hybrid and electric cars must be lighter to offset the added weight of their batteries and extend their range. While all the technical details need attention, the cost cannot be ignored. Price-sensitive cars, in particular, are a major source of carbon dioxide emissions because of their large sales.
New casting potential
In addition to the parts no longer needed for electric cars, there are new applications. For these new components, the die casting process provides the possibility of extremely thin wall thickness. Figure 2 shows the thin-walled battery shell and bracket that regulate the temperature of the battery through the cooling channel.
In addition, the motor itself has further potential to integrate the other functions of the casting with the cooling runner. Figure 3 shows an example of a cast wheel frame that can be integrated with a planetary gear transmission and motor in a formula student design competition organized by ETH Zürich and George fisher.
Casting lightweight structure solution
For electric cars in particular, lightweight construction is a must. This can be achieved in a variety of ways: the choice of structure and material, as well as processing techniques, can have a decisive impact on product weight. And the casting process offers many possibilities for making products lighter. It allows a high degree of design freedom to put the right materials in the right places and helps integrate multiple functions into one product. By using high strength casting materials such as SiboDur or AluSiDur, it is possible to make the load-bearing cross section smaller and thus lighter. Bionics allows the most suitable load path to be identified from a given structural space and implemented in castings most economically. "Form follows function" - the art of removing materials where they are not needed.
Steering knuckles, which have been tweaked to fit the profile, also remain in electric cars. Table 1 shows how the different designs compare. The comparison confirms that if we continue to exploit the full potential of bionics and integration and extend the system boundaries, components made of high-strength cast iron containing spheroidal graphite must not be heavier than those made of aluminum. Each avoided interface not only reduces weight, but also saves processing and assembly costs.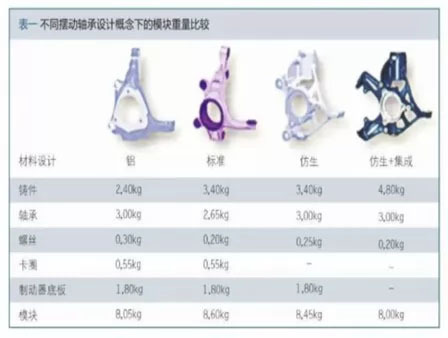 Casting also gives electric cars a lightweight structure. Especially for the area with high load and complex shape, casting has more advantages. Figure 4 shows an example of a shock-absorbing strut housing made of aluminum die casting. The combination of the thin wall area and the bone position in the heavy load transfer area enables the effective utilization of materials. Lightweight construction is achieved by integrating into the casting through the upper transverse guide arm connection to avoid material doubling.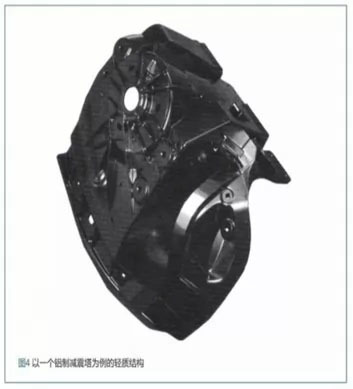 Summary and outlook
Electric cars are also changing the world of car suppliers. For foundries, some car components disappear, but new opportunities also emerge. We need to recognize these new challenges and implement product solutions successfully.
Casting offers a wide range of solutions that offer attractive methods for automotive parts applications even in changing environments. New materials, innovative design concepts and modern manufacturing processes will continue to provide the basis for competitive and affordable lightweight structures in the future. In particular, the cast material is easily recirculated and thus has a continuous co2 efficiency.
In order to provide more valuable solutions for cars in the future, further thinking is needed. New product boundaries with enhanced properties of materials combined with minimum wall thickness will help continue to achieve attractive, economical lightweight structures. Intelligently selected multi-material structures can also open up new possibilities and propose new solutions based on the "best in the world" concept.
Copyright statement: The content of the article is extracted from the network. If there is any infringement, please contact us to delete it!
904-905, China-base Building, No.666, Tiantong South Road, Ningbo 315100, China
NO. 45, Baofeng Road, Eastern Suburb Development Zone, Fenghua 315500, China
ALUMINUM FORGING DIVISION ADD
Shaojiadu Street, Linhai City,Zhejiang Province 317000, China
INNOVAW LPDC/GPDC division
No. 288, Fengchuan Avenue, Tonglu, Hangzhou, Zhejiang, China